Although some folks enjoy handling their finances on the back of napkins, or in a little spiral notebook, there are better, more automated ways to manage your personal finances. I enjoy having tools and methods that are readily available and at my finger tips. More importantly, I don't want to always have to enter every transaction, then categorize it, and summarize it to see the impact vs. my spending plan. There's also nothing like a smart phone app version as well for discreet check-ins during the day.
When I first started looking into personal budgeting software, I had some very basic needs. I wanted automatic updates. My Excel spreadsheet and paper solutions were wearing on my nerves. All my accounts needed to be accessible from one platform. I also did not want to pay a lot of money. "Free" sounded even better.
You'll want to develop a spending plan, or budget for yourself before you begin using the software. I currently use Mint.com. It meets my needs. I am still evaluating more tools for my personal finance fit.
Check out the following free personal money management software. Some features are common, like:
Common Personal Budget Software Features
Access to all the accounts you add in one place
Personal Money Management Dashboard
Graphs & Charts
Net Worth Analysis
Now for some personal recommendations. Try these sites out and let me know what you think.
Mint and Turbo Tax have teamed up to help you compress tax time preparation. I really like to be able to access all my account info from my iPhone. It remembers my categorization for expenses. This part can be a little tedious because it mixes up the transaction assignments sometimes. The software will send you alerts about how to save money by avoiding ATM fees and using credit cards with cash back features. It also reminds you when bills are coming due. I'm still going to dive into the other software to see more feature differentiation.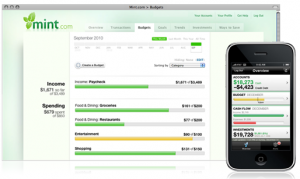 Mint.com Features:
all accounts in one place,
auto-categorization of transactions,
bill alerts, graphics,
use for budgeting,
net worth analysis,
mobile application
secure (Verisign and Truste)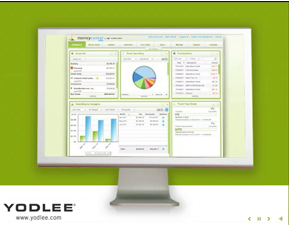 Yodlee is not only a means for managing personal finances, but the company has software developer capability for businesses and financial institutions. Yodlee also has a tax center powered by H&R block. These are fee-based services, but, the personal money management service is free.
Yodlee Money Center Features:
spending analysis,
cash flow analysis,
net worth analysis,
overdraft and late payment alerts, and fraud alerts,
auto-categorization of transactions, projected balances basis future spending
OneBudget.com (Beta)
What I like about OneBudget is that you can access your bill account websites from this site. Payments are automatically updated. You're more likely not to miss bills with this feature.
OneBudget Features
personal finance management dashboard,
accounts all in one place,
expense tracking and analysis,
 bill status alerts,
track net worth,
"envelope" budgeting,
 bill and utility pay
With Personal Capital, not only can you track bank, credit card, and loan accounts, you can monitor stock option values as well. You can track accounts offline too.
Personal Capital Features
all accounts in one place,
mobile Apps,
financial dashboard,
military-grade security,
investment advice,
personal savings and investment strategy
investment management
GNU Cash has the accounting software spin. This is a great feature for a small business. I like the check-book style register for viewing transactions.
GNU Cash Features
personal and small business financial accounting software,
track bank accounts, stocks, income and expenses,
transaction scheduling,
reports, and
graphs
Please leave a comment and let me know which ones you've tried and how you liked them. Let me know about any bugs you encounter as well.