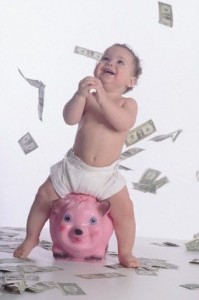 When my son, our first born, had just been delivered from within me after more than nine months of gestation, I was ecstatic. All 9 pounds and 2 ounces of him had been liberated via caesarian section two weeks after my due date.
For each month that passed, there was something new to observe in his growth and development. As the milestones of first tooth, first step, potty training, kindergarten, middle school, and high school graduation flew by, our expectations for him continued to rise.
Each challenge he faced and overcame led him to grow in understanding about himself and how things worked in his surroundings. As the challenges expanded in size and level of difficulty, he grew in his ability to handle those challenges.
Maturing Money Handlers Requires Growth Through Challenging Situations
It's just the same with us as maturing money handlers. We improve in our ability to handle the finances the Lord has given us to steward, as we overcome challenges and develop excellent skills. (Check out my earlier post "7 Money Secrets from the Parable of the Talents – A Steward's Day of Reckoning" for more on financial stewardship.)
Each challenge we encounter is an opportunity for us to grow and develop in areas that need shoring up. Perhaps we need help in buying our first home, or managing a household budget, or being an apartment building landlord. You can obtain help in those areas as you seek out sound instruction. Growth requires mentoring, education and experience. The need for growth cannot be ignored. The biblical writer Paul in 2 Corinthians 3:18 describes this growth process.
18And all of us, as with unveiled face, [because we] continued to behold [in the Word of God] as in a mirror the glory of the Lord, are constantly being transfigured into His very own image in ever increasing splendor and from one degree of glory to another; [for this comes] from the Lord [Who is] the Spirit. [AMP]
In effect, when we become excellent financial stewards at the level of our current assignment, we eventually receive a promotion. We earn the ability to handle greater and more difficult assignments. At each grade, our character, personal integrity, and money handling skill levels are developed and tested for endurance and effective performance. According to Merriam Webster.com, endurance means "the ability to withstand hardship", or adversity through "sustained, prolonged stressful effort or activity." When endurance and perseverance are fully developed, promotion can occur. (James 1:4)
The Money Handling Pyramid
So, where are you on the Money Handling Pyramid? Based upon your current monthly income and realm of responsibility, how much (order of magnitude) per month are you handling? Is it millions of dollars per month, hundreds of thousands, hundreds? Each level requires varying skills sets. If you have been managing thousands per month, what would happen if you suddenly had to manage tens of millions of dollars with little or no preparation? Would you know what it takes? If not, then it follows that without help and guidance, you may manage yourself back down to where you're used to dealing. That would be a shame!
Resulting from each trying state of affairs, hopefully comes an intimate knowledge of the inner workings of financial systems and processes, if we chose to be observers and students of them. The Word of God is an effective instruction manual for understanding, containing, avoiding or even eliminating those difficult situations.
When you have developed the ability to manage the pennies, nickels, dimes, and quarters, it's just that much easier to make those dollars holler. Maturity in handling finances is progressive. It's not going to be handed to you. You must learn how to hold onto your finances and know how make them work for you.
Some Recommendations on Improving Your Money Handling Skills
There are many ways to develop your money handling skills:
Read your bible for helpful financial advice, like "The rich ruleth over the poor, and the borrower is servant to the lender." Proverbs 22:7 concerning managing credit well, or Proverbs 20:4 which says "The sluggard will not plow by reason of the cold; therefore shall he beg in harvest and have nothing," encouraging us to always pursue excellence in handling money or money-making propositions.
Take a class on effective money management, saving for retirement, investing in real estate, or budget creation. Your local community college would be a great resource at a great price.
Read books by successful money handlers like Dave Ramsey, Warren Buffett, and Robert Kyosaki.
Dave Ramsey: The Total Money Makeover; Financial Peace Revisited.
Warren Buffet: The Warren Buffet Way, 2nd ed.; The Winning Investment Habits of Warren Buffet and George Soros.
Robert Kiyosaki: Rich Dad, Poor Dad: What the Rich Teach Their Kids About Money That the Poor and Middle Class Do Not; Rich Dad's Cashflow Quadrant: Rich Dad's Guide to Financial Freedom.
10TW Articles for Resources: Some helpful blog posts here on 10 Talent Wealth are…
What to Do When Your Debt Looks Like Goliath the Giant
10 Power Steps to Creating a Personal Budget – Part 1
7 Money Secrets from the Parable of the Talents – The Rewards of Excellent Stewardship
Please leave a comment below with your thoughts or some of your recommendations on financial management resources.