According to Technorati's State of the Blogosphere, there were over 35 million blogs tracked in the blogosphere with the number roughly doubling every 6 months. With that astounding rate of growth, newbies and experienced bloggers alike would question their own blog's ability to survive and thrive with such fierce competition.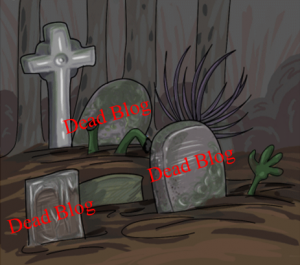 Dead Blog Cemetery: Uninformed Bloggers Contribute to the Death of Their Own Blog
The competition is between similar blogs, rather than between unlike blogs. But, the shear number of blogs is staggering. I wanted to learn some of the reasons why a blog's popularity never gets off the ground, or perhaps views and interaction take off, only to later dwindle.
What Are the Possible Reasons for Blogs Ending Up in the Blog Cemetery?
Some factors that contribute to the early death of a blog rest entirely on the blogger:
Not knowing enough about the intended audience;
Not knowing the target audience's needs;
Not effectively connecting with the blog's intended audience; or,
Experiencing diminishing blogger passion to write consistently and provide attractive content.
JKS Youth Economic Summit
So, what steps should a blogger take to establish and build a readership and a loyal audience? What can a blogger do to avoid no or low traffic, especially if their desire is to use their blog to establish a business? Well, I had the opportunity to explore this topic at a wonderful event this weekend, when I was invited to address the attendees of the JKS Summit.
Cudos to the Delta Sigma Theta Sorority, sponsors of the Annual Juanita Kidd Stout Youth Economic Summit! The Ladies in red and white had over 100 kids from the surrounding Philadelphia area to attend. The focus of the event is entrepreneurship and financial literacy, two of my favorite topics. The student participants included 5th through 12th grade. The kids are hard-working, high-potential, and inspired. They certainly inspired me with their enthusiasm, attentiveness, and great questions.
I had the opportunity to present to aspiring bloggers ranging in age from 13 to 18. Some of the students had a head start already with blogs of their own. They were interested in the following:
What We Covered:
Ways to increase their subscribers;
Methods of reviving stagnant or dying blogs;
Rejuvenating and maintaining motivation to continue posting;
Target audience analysis;
Finding service and product solutions for their target audience;
Methodologies for monetization; and
Making entrepreneurial connections.
I promised to make the "Blogging 101: Build Your Audience, Build Your Business Slides" available on my blog. Just click the title to download them.
8 Pathways to Build the Audience of Your Dreams: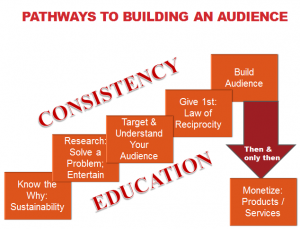 Pathways to Building An Audience
So, let me summarize the keys points on building a blog audience using the following graphic.
Know the Why – Sustainability: There must be a compelling reason to keep blogging. Perhaps it's love of the blog subject, or desire to help your subscribers. The glowing embers of your blogging passion must to stoked through interaction with other bloggers, participating in topic  related forums. A desire to write must be cultivated as well.
Do the Research: Solve your audience's problems in an entertaining way. Use Google's Keyword search tools to learn more about what your target market is searching for.
Target & Understand Your Audience: Hang out where your blog's potential audience hangs out. Seek them out in the social media sites like Twitter, FaceBook. Review the problems they write about on competitor blogs. Begin to think as they do. Anticipate their problems and present solutions.
Initiate the Law of Reciprocity: Always find reasons to Give 1st! This principle has been deeply ingrained in the blogosphere; be constantly on the look out for opportunities to serve your target audience as well as other bloggers. Use free downloads/eBooks. Leave valuable comments on blogs in your category. Try guest posting on a variety of like blogs. You can use their site's popularity to link back to yours via Comment Luv plugin.
Build Your Audience: Over time, you'll see your subscriber numbers increase. Be sure your email subscriber box is in a prominent location where potential viewers can easily see it. Use services like Mail Chimp (a free email list management software) or AWeber (paid email list service) to connect using email. Listen for their feedback in comments. Reply to comments promptly.
Be Consistent: Establish a posting schedule you can stick with and develop your audience's expectation for receiving your targeted content.
Education: Seek Out training, keep your skills fresh. Take an online course.
Monetize: When you've built some credibility with your audience, monetize your blog by launching your products and services. They'll buy because you've taken the time to build trust.
Blog Links from Those That Continue to Contribute to Me Daily
When you download the presentation slides you'll see some bonus content with excellent blogger resources. I'll mention a few in the post. You can check out more on the download.
You'll find that there are bloggers with varying levels of success in popularity and monetization. Chose the ones that resonate with you and follow their blogs. You never know when free eBooks, impactful training courses, and services will be offered. Be observant.
These are the ones that continue to positively influence me. Check out their blogs. I'm betting you'll find useful content on their sites.
Books You Must Have in Your Library
I've always been an avid reader. As much as I love the feel of a hard or soft copy book, I've been really enjoying my new Amazon Kindle Fire which I got from my family for my birthday earlier this year. I recommended some book resources during the presentation. I've added a few. Feel free to check them out.
For Inspiration:
Classic Comparative Side-by-Side Bible: NIV | KJV | NASB | Amplified: The World's Bestselling Bible Paired with Three Classic Versions
The Richest Kids In America: How They Earn It, How They Spend It, How You Can Too
The Strangest Secret
The 4-Hour Workweek: Escape 9-5, Live Anywhere, and Join the New Rich (Expanded and Updated)
Reallionaire: Nine Steps to Becoming Rich from the Inside Out
Blogging Help
ProBlogger: Secrets for Blogging Your Way to a Six-Figure Income
WordPress For Dummies
Write It Right: The Ground Rules for Self-Editing Like the Pros
Public Speaking Resource
When your blog popularity soars as a result of implementing these tips, you'll probably be in demand as a speaker. It always pays to hone your public speaking skills. Who knows? Radio and TV opportunities may arise. I highly recommend joining a local Toastmasters Club. Attending and doing speeches in the "Competent Communicator" program will provide you a learning environment and forum for practice.  You can look up which clubs meet near you, or find out how to start your own Toastmasters club.
One of the all-time best book resources for public speaking is Dale Carnegie's book on the subject.
How to Develop Self-Confidence And Influence People By Public Speaking

Well, that wraps up this post. I pray you found it valuable!
Please Leave a Comment
I encourage you to leave a comment. If you're one of the JKS attendees, please let us know what you think about the Summitt and the Blogging 101 presentation in the comments. I look forward to hearing from you.